Demining Apron - DAP-450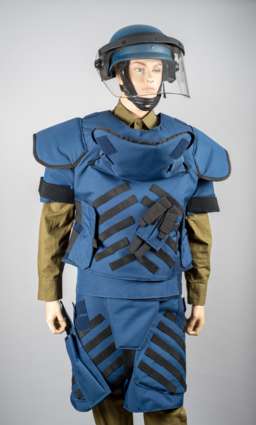 The DAP-450 Deminers Apron has been designed to conform with UN International Mine Action Standards (IMAS).
The Apron provides frontal protection for the neck, shoulders, torso, groin and thighs. An optional removable arm protectors is available.
DAP-450 Demining Apron is a light weight and versatile PPE (Personal Protection Equipment) product designed to be comfortable while still providing uncompromising frontal protection against anti-personnel mines.
The Apron is made of two parts, upper and lower, to provide better flexibility and comfort while kneeling nearby a mine.
The Demining Apron was developed and tested in the field working with deminers operating in extreme conditions and proved to cause minimum restriction to movement and vision.
Protection level:
STANAG 2920 V50 Rating 450 m/s
MIL-662F for 17 grain fragments > 450 m/s.
Visor Polycarbonate V50 Rating 250 m/s
A protection against 17 grain fragments > 580 m/s can be provided upon special request.
Weight:
The complete DAP-450 Suit weighs approximately 4.5 kg'
Packaging:
Each apron is packed inside a tough water repellent Carry Bag.
Warranty:
The Outer Garment is guaranteed against inferior quality materials and workmanship for a period of one year. The Armour Panels are guaranteed for a period of 5 years